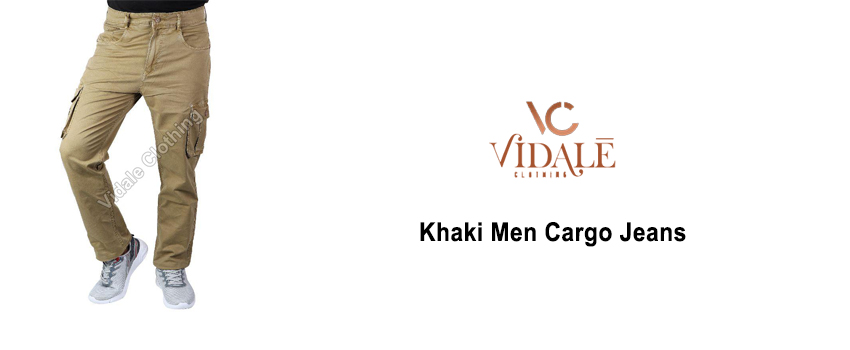 Looking nice should not be limited to formal gatherings and special occasions. Why not spice up your weekend outfit with some flair and style? They're not only comfy but also adaptable and practical. So, if you have a query that sounds like this:
'Are cargo pants fashionable?'
'Are cargo pants OK for business casual?'
'How do you wear cargo pants for men?'
Reasons why men should wear cargo pants.
Khaki Cargo Jeans Men are not old-fashioned but still popular, but like any other outfit or piece of clothing, they must be worn at the appropriate moment.
Consider the following:
● Flip-flops are fantastic footwear to wear for the beach or pool, but they should not be worn anywhere else.
● Black socks work well with dark pants but not with shorts, including men's cargo shorts.
The key to looking smart when wearing anything is timing and cargo pants are no different in this aspect. Cargo pants for guys are ideal for weekends and during their free time while doing different activities.
● They are readily available.
People who wish to purchase these pants can do so from a variety of offline and online apparel outlets. This item is available at a low cost at many department stores. Customers with a larger budget should shop at casual wear outlets.
● Convenient for a Variety of Applications
The nicest part about these pants is that there are no constraints on where they can or cannot be worn. They are perfect for medical personnel that want comfy attire or scrub-like pants. Heavyweight cotton pants are perfect for outdoor occupations like construction.
● Fashionable
When cargo pants initially became popular, men rapidly adopted them as a fashion staple. The style and materials are ideal for guys whose jobs require manual labor or time spent in the fields. These pants are often worn for outdoor activities nowadays, although many men still wear them to work, parties, and social events. With casual attire becoming more trendy, cargo pants are becoming increasingly desirable in a variety of contexts. It's worth noting that black cargo trousers are quite popular among both men and women.
● They are simple to clean.
Scrub pants can be worn by those working in the healthcare industry in a variety of styles. Healthcare professionals' uniforms often consist of a light polyester/cotton fabric combination that washes well without creating creases. They may be worn with a matching white lab coat or scrub top. In any case, they will be wrinkle-free all day and appear professional.
● Cargo Pants Are Perfect for Casual Situations
In reality, every man's wardrobe should have a pair of black cargo trousers. Although they are not appropriate for suit-and-tie events, black cargo pants are an excellent choice for almost any informal occasion. The numerous pockets on cargo trousers are one of its most appealing characteristics. This makes them excellent for hiking, making deliveries, going to school, and even working in a casual setting.
Cargo pants used to be available in plain colors, but that is no longer the case. Fashion designers have modernized cargo designs in a variety of colors and styles. Some pants even have embellishments stitched into them.